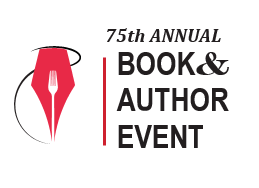 75th Annual Book & Author
Thursday, May 7, 2020
We are excited to celebrate our 75th Anniversary of the Book & Author Event, the longest running event of its kind in the country, by welcoming a new lineup of authors. This year's virtual Book & Author event will allow you to discover new authors and books while supporting the League and the Richmond community. It's a win-win!
View this year's Program here.
Book Sales: In an effort to support a local bookstore, we have partnered with Fountain Books for all our book sale needs. Due to current shipping and logistical constraints, books may be delayed. For hard copy orders, please visit the book store website here. Any purchase over $25 will have free shipping! Click the following links for electronic versions: eBooks | Audiobooks.*
*Any books purchased before March 30, 2020 will be honored, but may be delayed. If you would like a refund on your pre-sales books, please reach out to bookandauthor@jlrichmond.org.
2020 Featured Authors:
In our 75th year we will host 6 amazing authors! We are excited to announce the author panel:
Melissa M. Martin- "Mosquito Supper Club: Cajun Recipes from a Disappearing Bayou"
Bob Deans- "The Bicycle Man"
Natalie Jenner- "The Jane Austen Society"
Phuc Tran- "Sigh, Gone: A Misfit's Memoir of Great Books, Punk Rock, and the Fight to Fit In"
Grady Hendrix- "A Southern Book Club's Guide to Slaying Vampires"
Lily King- "Writers & Lovers
And returning as our resident emcee and host- Bob Deans!
We will also feature the Junior League's very own Anne Poarch and her second book of poetry " The Grit & Joy of Being"  for book sales and autographs!
If you have any questions, please contact:
Kayley Perkins, Chair
Deanna Hathaway, Co-Chair
at bookandauthor@jlrichmond.org
Thank you to our 2020 committed sponsors: 
Presenting Dinner Sponsor: $25,000
Dominion Energy
Mayo Carter Circle: $2,500
CBS 6
Commonwise Home Care
KPMG LLP
McGuire Woods LLP
Richmond Times-Dispatch
Sonabank
Writer's Circle: $1,200
Blue Edge Capital, LLC
New Market Foundation
Troutman Sanders LLP
Reader's Circle
Janet Brown Interiors
Crouch Family Giving Fund
Towne Bank