New Donation Hours at The Clothes Rack!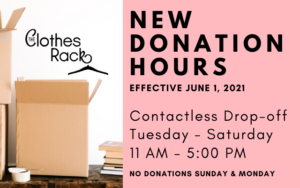 The Clothes Rack is excited to announce extended donation hours starting June 1, 2021!
Donate weekly, Tuesday through Saturday, at either store location via safe, contactless drop-off. Pre-signed tax receipts are available.
Staff is available to assist masked customers with limited mobility. Ring the bell or call ahead for assistance.
After you donate, swing around the front of the store for a little shopping!
See you soon!