The Junior League of Richmond is once again participating in the Little Black Dress Initiative, a week long fundraising initiative where participants wear the same black dress for an entire work week to highlight the struggles of people who live at or below the poverty line.
This year our fundraising goal is $35,000. The funds raised from this campaign will go directly to purchase an Eviragrow Mobile Learning Center that will be placed at one of our community partners in the East End of Richmond. The Eviragrow Center will provide workforce development, help reduce the food desert within that community, offset grocery costs for our community partner, and provide a platform to teach about health and nutrition.
To get started, we kicked off the week with a give back lunch at Travinia Italian Kitchen & Wine Bar. Thank you to Travinia for graciously donating 15% of proceeds from today's lunch to LBDI! Pictured below is a group of ambassadors who had lunch at Travinia.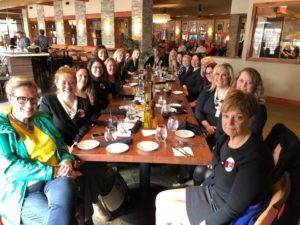 What is poverty? Why is the JLR doing this? Below is some valuable information to help you get started on understanding our journey this week! What can you do to help? Click here to donate and help us reach our goal!
Poverty Definitions and Statistics
Poverty is defined as the lack of means necessary to meet basic needs such as food, clothing and
The World Bank Organization describes poverty in this way: "Poverty is hunger. Poverty is lack of Poverty is being sick and not being able to see a doctor. Poverty is not having access to school and not knowing how to read. Poverty is not having a job, is fear for the future, living one day at a time. Poverty has many faces, changing from place to place and across time, and has been described in many ways. Most often, poverty is a situation people want to escape. So poverty is a call to action — for the poor and the wealthy alike — a call to change the world so that many more may have enough to eat, adequate shelter, access to education and health, protection from violence, and a voice in what happens in their communities."
A food desert is a geographic area where affordable and nutritious food is alleged to be hard to obtain, particularly for those without access to an automobile. Some research links food deserts to diet-related health problems and health disparities in affected populations.
Food insecurity means that these families experience an uncertainty of having, or an inability to acquire, enough food for all household members because of insufficient money or other resources.
Percentage of students receiving free/reduced lunch 80% (as of Jan. 2009) (RPS)
"One in four Richmond residents lived in poverty in 2015 — the second-highest concentration of indigence among Virginia's 30 largest cities and counties, according to statistics released Thursday by the U.S. Census Bureau." (S. CENSUS BUREAU)
Envirable Grow Systems LLC will provide locally-grown, leafy greens and herbs free of harmful chemicals for our community. (https://enviragrow-indoor.farm/who-we-are)
Persons in poverty 26.2% (U.S. CENSUS BUREAU)
Children below poverty level:(http://www.city-data.com/poverty/poverty-Richmond-Virginia.html)
Richmond, Virginia 42.6%
State 13.9%
Almost 40% of Richmond Public School students live in poverty. (Source: RPS)
Children who live in poverty are likely to suffer from poor nutrition during infancy, experience emotional distress, and have an increased risk for academic failure and teenage pregnancy. (Source: VAperforms.gov)
There are over 200 areas that have been identified as food deserts in Virginia. For people who don't have cars, food deserts limit their access to nutritious foods. (Source: NBC12)
There is a direct relationship between education level and employability. In 2015, an adult (25+) with a bachelor's degree earned about 40% more than an adult with just a high school diploma. (Source: Bureau of Labor Statistics)