Little Black Dress Initiative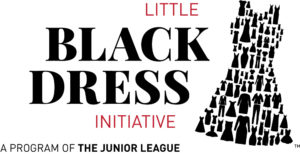 The Little Black Dress Initiative is a poverty awareness campaign:
The Little Black Dress:
You will notice our advocates wearing the same black dress for five straight days.
What does wearing the same black dress every day for five days mean?  It means experiencing first hand the lack of choices people in poverty face.
Our Goal:
In 2019, our goal is to raise over $30,000 to go to the organizations below:
Safe Harbor– Supports those who are experiencing or have experienced domestic violence, sexual violence, or human trafficking.
$15,000 from our campaign will go towards Dental needs, Social Activities and Outings, and Clothing

Child Savers– Provides trauma-informed mental health and child development services to children and adults.
$12,130 will go towards Healthy Hydrations, Family Style Meal Delivery, and access to fresh foods
Greater Richmond Fit4Kids– Organization dedicated to improving children's health and reducing the prevalence of childhood obesity in the Richmond region.
$2,750 from our campaign will go towards 10 Scholarships to Game On, Girl! Summer Summit 2019
#LBDIJLR on Instagram