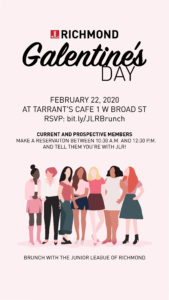 The Recruitment Committee invites current and active members to brunch at Tarrant's Cafe on 1 West Broad Street, Richmond, Va. Want to come? It's 3 easy steps!
Grab your friends and pick a time between 10:30 a.m. and 12:30 p.m.
Call Tarrant's Cafe and make a reservation and tell them you are with the JLR.
If you are a prospective member and want to meet the Recruitment Committee, let us know you're coming by RSVPing here and show up and share brunch with some of the best gals in town!